About me
Born in Vienna, raised in Maria Enzersdorf, Austria.
Master's degree in Translation / Interpretation (English, Italian, French) and Art History, additional studies in the fields of Orientalism und Indology. Member of the Mödlinger Künstlerbunds (Artists' association of Mödling) and the Berufsvereinigung der bildenden Künstler Österreichs (Austrian association of professional fine artists).
Art studies with Brigitte Ammer, Diana Stoilova, Mario Schleinzer, Michael Kubik, Hannelore Feigl, Udo Hohenberger, Karlheinz Pilcz sowie Prof. Herwig Libowitzky (Stage design). Travels to India, South America, Asia, Africa and the Middle East as well as longer study visits to the USA, England, France and Belgium have been very influential and paved the way for my cross-cultural concepts that also become tangible in the picture titles.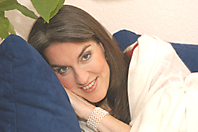 My works are polychrome and mostly large-sized paintings crafted in a special charcoal-acrylic mixing technique. Vibrant colors in combination with symbolically simplified motifs stand for the vitality of the world in its human and cultural diversity and create a contrast to the complexity of life.
Numerous art shows and publications of my works in magazines.

Art Shows
2002 Art Show at Hunyadi Palace, Maria Enzersdorf


2003 Publication of my paintings in "Bassena" Magazine


2004 Art Show at Kunstmeile Donauspital, Vienna


Election to membership in the
Artists' association of Mödling (MKB)


Art Show at Schlösschen an der Weide, Maria Enzersdorf


2005 Mitwirkung an der Frauenkunstmeile Mödling 2005


Art Show "LifeLinePainting", at Kunststation, Mödling


Art Show "Habseligkeiten" at Rathaus, Schwechat


Art Show "Gleich ums Eck" at Rathaus, Wiener Neudorf


Art Show "Sehen, Hören, Riechen, Schmecken"
at Wirtschaftskammer NÖ, Herrengasse, Wien


Art Show Maria Enzersdorfer Kulturtage,
at Kielmansegg- Schlössl Maria Enzersdorf


2006 Art Show "Lebensfeuer", at Sala Terrena, Stadtamt Mödling


Art Show "Neue Arbeiten im neuen Haus", at Kunststation, Mödling


Art Show "Köpfe", at Bergerhaus, Gumpoldskirchen


Art Show "Bild - Schrift - Zeichen" at NÖ Landesbibliothek,
St. Pölten


Art Show "Spiegelungen", at Museum Laxenburg,
Laxenburg


2007 Art Show "LIFELINEPAINTING", at Top 20, Vienna


Art Show "Ansichten", at Brunner Heimathaus,
Brunn am Gebirge


2009 Art Show at "Art Wagram" Gallery, Neudeggerhof, Lower Austria


Art Show "Wasser-Werke", at Alte Schieberkammer, Vienna


2011 Art Show "Innen und Aussen", at Schlossgalerie,
Steyr, Upper Austria


2011 Art Show "Innen und Aussen", at Reitherhaus, Herzogenburg


Art Show "Korn und Form", at Brotway, Vienna


2013 Art Show "Innen und Aussen", at Ursinhaus, Langenlois


Art Show "Glaubensfragen", at OÖ Kulturquartier,
Linz, Upper Austria


Art Show "90 Jahre mödlingerkünstlerbund", at Sala Terrena, Mödling